Books (Englisch)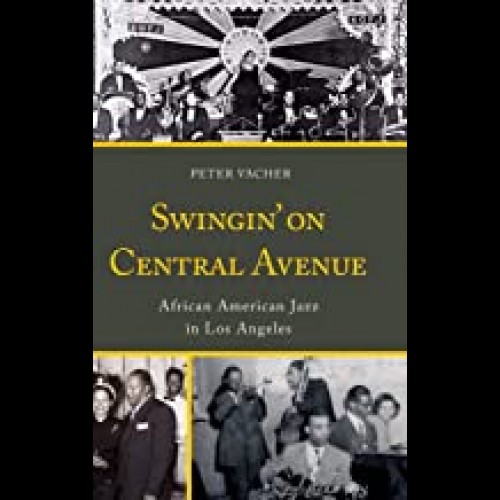 Swingin' on Central Avenue
African American Jazz in Los Angeles - Book - by Peter Vacher
(2015)
The development of jazz and swing in the African-American community in Los Angeles in the years before the second World War received a boost from the arrival of a significant numbers of musicians from Chicago and the southwestern states. In Swingin' on Central: African-American Jazz in Los Angeles, a new study of that vibrant jazz community, music historian and jazz journalist Peter Vacher traveled between Los Angeles and London over several years in order to track down key figures and interview them for this oral history of one of the most swinging jazz scenes in the United States. Vacher recreates the energy and vibrancy of the Central Avenue scene through first-hand accounts from such West Coast notables as trumpeters Andy Blakeney , George Orendorff, and McLure "Red Mack" Morris; pianists Betty Hall Jones, Chester Lane, and Gideon Honore, saxophonists Chuck Thomas, Jack McVea, and Caughey Roberts Jr; drummers Jesse Sailes, Red Minor Robinson, and Nathaniel "Monk" McFay; and others.

Throughout, readers learn the story behind the formative years of these musicians, most of whom have never been interviewed until now. While not exactly headliners-nor heavily recorded-this community of jazz musicians was among the most talented in pre-war America. Arriving in Los Angeles at a time when black Americans faced restrictions on where they could live and work, jazz artists of color commonly found themselves limited to the Central Avenue area.

This scene, supplemented by road travel, constituted their daily bread as players-with none of them making it to New York. Through their own words, Vacher tells their story in Los Angeles, offering along the way a close look at the role the black musicians union played in their lives while also taking on jazz historiography's comparative neglect of these West Coast players. Music historians with a particular interest in pre-bop jazz in California will find much new material here as Vacher paints a world of luxurious white nightclubs with black bands, ghetto clubs and after-hours joints, a world within a world that resulted from the migration of black musicians to the West Coast.
---
Ähnliche Produkte