Books (Englisch)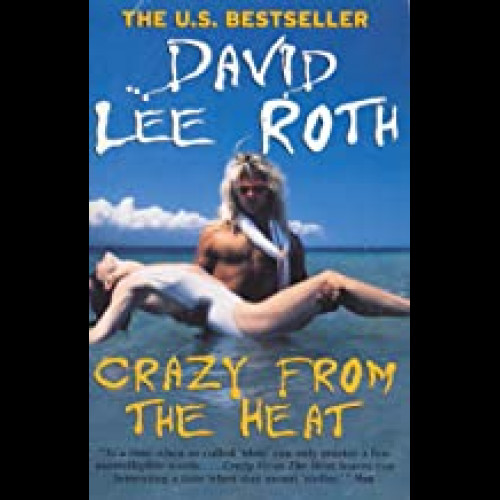 Crazy From The Heat
Van Halen / Dave Lee Roth - Book
(2000)
'I WAS THERE WITH THESE TWO GIRLS ONCE; THEY WERE STRIPPERS. THEY SAID 'DAVE, WE'D LIKE YOU TO GO UPSTAIRS, THE TWO OF US, WITH YOU. ' SO I SAID, 'OKAY'.

IT WAS ANGUS, AND IT WAS HOT AND SWEATY AND HUMID, AND WE COMMENCED TO DELIVER THE GROCERIES AT 138 BEATS PER MINUTE OR MORE. ONE OF THE GIRLS HAD $1500 IN SINGLES AND FIVES AND TENS, HER END-OF-THE-WEEK TIPS AND PAY AND EVERYTHING IN HER G-STRING. NOBODY NOTICED, YOU KNOW, WHEN THE G-STRING CAME UNDONE -- WELL, I NOTICED -- NOBODY NOTICED THE MONEY, LIKE, FLOATING AROUND.

I WOKE UP AT SOME POINT AROUND DAWN, THE TWO OF THEM WERE ASLEEP, AND ALL THREE OF US WERE COVERED WITH MONEY, EVERY SQUARE INCH OF SKIN HAD A DOLLAR BILL PASTED TO IT -- THERE WAS NOTHING BUT. THE WHOLE BED WAS COVERED WITH BILLS. OUR BODIES WERE COVERED WITH BILLS.

THERE WAS BILLS IN MY UNDERWEAR. TAKE A LITTLE PICTURE OF THAT. ' So begins perhaps the ultimate rock autobiography.

Throughout the late-seventies and eighties Van Halen were the archetypal American rock group. Whats more they were also the highest paid band in the history of show business, taking a cool $1 million for a night's work at a festival in 1983 and making the Guiness Book of Records.
---
Ähnliche Produkte