Glam/Bubblegum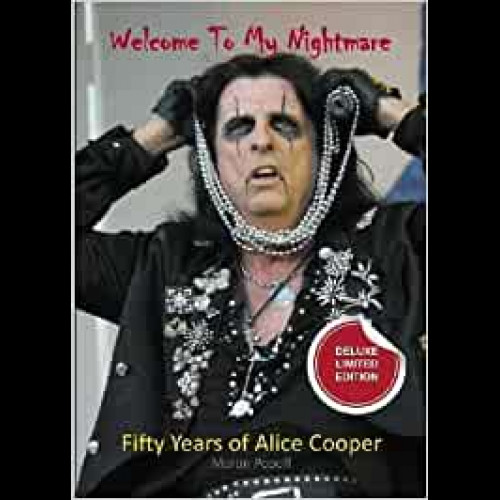 Welcome To My Nightmare: : Fifty Years of Alice Cooper (deluxe edition)
Alice Cooper - Book - by Martin Popoff
(2018)
Popoff's easy to read book utilises his celebrated timeline with quotes methodology, allowing for drop-ins on all aspects of Alice's busy life. The author has made use of his extensive archive of interviews with Alice and the band as well as producers, designers and even The Amazing Randi, world-renowned magician and inventor of Alice's legendary guillotine prop. Welcome to My Nightmare is an immense addition to Alice Cooper scholarship.

Alice Cooper was one of the biggest concert draws in the seventies with a string of gold and platinum albums to his name. Hits include "I'm Eighteen," "Be My Lover," "Under My Wheels," "School's Out," "Elected," & "Billion Dollar Babies". Alice continued to shake pop consciousness with Welcome to My Nightmare and a string of hit ballads.

He appeared regularly on TV and talk shows. Following a debilitating drug and alcohol addiction and subsequent notorious dark period in the early eighties which is addressed in the book, Alice returned to gold and platinum status with albums like Trash and Hey Stoopid, featuring smash singles "Poison" and "Feed My Frankenstein." He's never stopped touring and being a multi-media whirlwind since-Alice, with his pioneering use of facepaint, remains one of the most famous faces in America. Shockingly, there has not been a comprehensive Alice Cooper book since the eighties.

The key here is the rich content Popoff brings to the project. Welcome to My Nightmare is sure to impress the Alice expert and novice alike, with new revelations and interviews turning up page after page.
---
Ähnliche Produkte