Books (Englisch)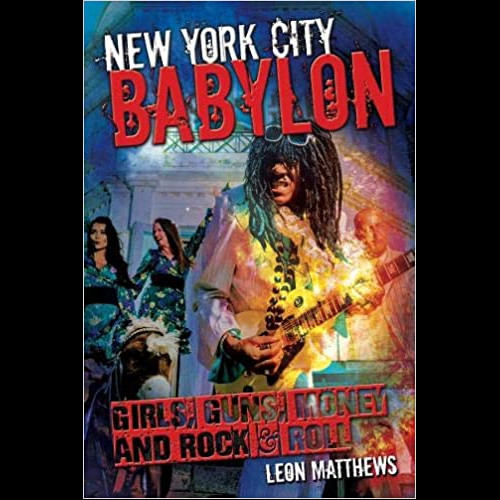 New York City Babylon : Girls, Guns, Money and Rock & Roll
Neon Leon - Book - by Leon Matthews
(2022)
In his first biography, Neon Leon Fast Track to Hell, Leon told his story, taking us on a journey from New York city nightlife as a musician and on to London to live with Rolling Stones Mick Taylor and his wife Rose. It ended coming full circle back to New York to the Chelsea Hotel together with Sid Vicious and Nancy. It was a fast moving tale of the sex, drugs and rock and roll lifestyle you would expect of any wild-child of that era.

In this new biography, Leon takes us further in his journey to try to make it big in the music industry. Whilst Mick Jagger (Rolling Stones) funded his first album, he quickly learned that there needs to be a lot more luck involved to make it as big as he wanted to be. This is the tale of murder, mafia, music, strippers and dancers, groupies and Burlesque Queens, all wound up in a surreal journey to get to his goal of rock stardom, which deluded him so.

Neon Leon knew he had to die and reinvent himself as "King Lion and the Royal Family", taking a new and different road at that all important goal, and willing to do whatever it took to get there. With contributions to his music from Keith Richards and Mick Taylor (Rolling Stones) Anne Gibson (Neon's current manager in Sweden), Marvin Gaye, Donny Hatheway, Curtis Mayfield (most recorded percussionist in the recording industry ).Wolfgang Busch..(Award winning filmmaker) Danny Garcia ( Film Director) and Stinker &Lenny Steele (Pure Hell). Jeff Stein (Award winning MTV media /film producer...Billy Idol, Bruce Springstein,Tom Petty.Neon Leon,The Who) , Stevie "Snakefingers" Klasson (Neon Leon, Johnny Thunders, Hanoi Rocks Black Weeds)and Berracuda (Neon Leon and the Bondage Babies ,Stockhom )Kenn "The Killer" Haunstoff (awarding DJ /Danish DJ,/Producer),Oslo's "Bony Maronie" and many more.

With friends like this, Leon was strong enough to take on anything, do anything, but where does he draw the line? Read on and find out on this next leap into the life of Leon Matthews. Rare photo's from Frank Meyer, Nicho Oppermeyer, Eileen Polk, Mark Weise Vaiva Posk and Neon Leon's private photo archive.
---
Ähnliche Produkte