Books (Englisch)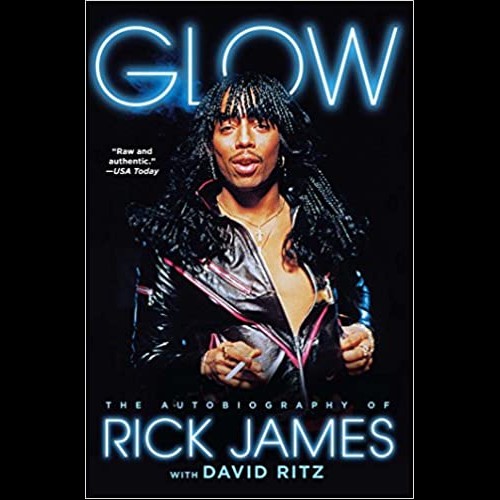 Glow : The Autobiography of Rick James
Rick James - Book - by Rick James and David Ritz
(2015)
Best known for his 1980s hit songs ';Super Freak,' ';Give it to Me Baby,' and ';Mary Jane,' the late singer and funk music pioneer Rick James collaborated with acclaimed music biographer David Ritz in this posthumously published, no-holds-barred memoir of a rock star's life and soul.

He was the nephew of Temptations singer Melvin Franklin; a boy who watched and listened, mesmerized from underneath cocktail tables at the shows of Etta James and Miles Davis. He was a vagrant hippie who wandered to Toronto, where he ended up playing with Neil Young and Joni Mitchell, and he became a household name in the 1980s with his hit song Super Freak. Later in life, he was a bad boy who got caught up in drug smuggling and ended up in prison.

But since his passing in August 2004, Rick James has remained a legendary icon whose name is nearly synonymous with funk musicand who popularized the genre, creating a lasting influence on pop artists from Prince to Jay-Z to Snoop Dogg, among countless others.

In Glow, Rick James and acclaimed music biographer David Ritz collaborated to write a no-holds-barred memoir about the boy and the man who became a music superstar in Americas disco age. It tells of Jamess upbringing and how his mother introduced him to musical geniuses of the time. And it reveals details on many universally revered artists, from Marvin Gaye and Prince to Nash, Teena Marie, and Berry Gordy.

James himself said, My journey has taken me through hell and back. Its all in my musicthe parties, the pain, the oversized ego, the insane obsessions. But despite his bad boy behavior, James was a tremendous talent and a unique, unforgettable human being.

His glow was an overriding quality that one of his mentors saw in himand one that will stay with this legendary figure who left an indelible mark on American popular music.
---
Ähnliche Produkte