Books (Englisch)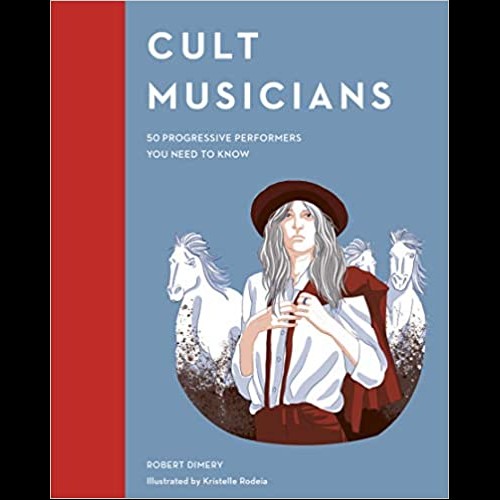 50 Progressive Performers You Need to Know
Cult Musicians - Book - by Robert Dimery
(2020)
WHAT MAKES A CULT MUSICIAN? Whether pioneering in their craft, fiercely and undeniably unique or critically divisive, cult musicians come in all shapes and guises. Some gain instant fame, others instant notoriety, and more still remain anonymous until a chance change in fashion sees their work propelled into the limelight. Cult Musicians introduces 50 musicians deserving of a cult status.

The book charts a plethora of genres and boundary-breakers - from afrobeat and art pop to glam rock and proto punk; Bjork and PJ Harvey to Aphex Twin and Wiley. Discover little knowns with small, devout followings and superstars gracing the covers of magazines - each musician is special in their individuality and their ability to inspire, antagonise and delight. Cult Musicians is an essential addition to any music lover's library, as well as an entertaining introduction to our weird and wonderful world of music.

Also in the series: Cult Artists, Cult Filmmakers + Cult WritersThe musicians: Alex Chilton, Alice Coltrane, Aphex Twin, Arthur Lee, Arthur Russell, Betty Davis, Bjork, Bobbie Gentry, Brian Eno, Brigitte Fontaine, Captain Beefheart, Delia Derbyshire, Edith Piaf, Fela Kuti, Frank Zappa, Gil Scott-Heron, Iggy Pop, J Dilla, John Cage, Karlheinz Stockhausen, Kat Bjelland, Kool Keith, Laurie Anderson, Lee 'Scratch' Perry, Lili Boulanger, Lydia Lunch, Manu Chao, Marianne Faithfull, Mark E. Smith, Mark Hollis, Moondog, Nick Cave, Nick Drake, Nico, Patti Smith, Peaches, PJ Harvey, Robert Wyatt, Roky Erickson, Ryuichi Sakamoto, Sandy Denny, Scott Walker, Serge Gainsbourg, Sixto Rodriguez, Sun Ra, Syd Barrett, The Slits, Tom Waits, Wiley, Yoko Ono.
---
Ähnliche Produkte