Books (Englisch)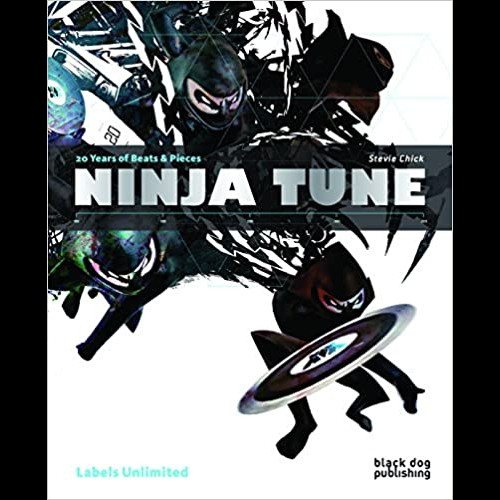 Ninja Tune: 20 Years of Beats & Pieces Labels Unlimited
Ninja Tune's - Book - by Stevie Chick
(2010)
Ninja Tune have been dedicated to publishing inspiring electronic music for the past two decades. Celebrating their twentieth anniversary in 2010, the label was established by two friends who wanted a new label for their venture Coldcut. Matt Black and Jonathan More conceived a label that was unfettered by restraints upon its artists' work, offering a vibrant and diverse array of inspired minds a broad canvas upon which to paint their masterpieces.

The label's discography encompasses a wide range of contemporary music; The Cinematic Orchestra; Roots Manuva; Mr Scruff; Steinski; Amon; Kid Koala; The Herbaliser- and these are just some of the classics. The label also hosts the likes of Daedelus, Thunderheist and Cougar amongst many other outfits who are currently touring the independent music scene. The book tells the story of the record label, the artists themselves, their art and the ways in which their influence was and is felt in the larger culture.

It's a tale that begins with Black & More touring Japan with Coldcut 20 years ago, and tiring of how the staid, uncomprehending music industry was manipulating the group. The book traces the development of Ninja Tune's offshoot labels, Ntone (who gave us releases by Hexstatic, Cabbageboy and Neotropic); Hip-Hop imprint Big Dada (home to Roots Manuva, Spank Rock, Ty, Diplo and Infinite Livez); and Counter Records (Pop Levi, The Deathset, The Heavy). The book tells the story of the growth of the label, including setting up a satellite office in Canada, where Ninja Tune's music developed such a loyal following that every Ninja artist's show there is attended by one uber-fan who turns up in a foam costume, passing himself off as a Ninja Robot Sentinel.

An important element to the label is the design of the covers and branding of the company. Ninja Tune's logo is a woodcut originally designed by cult New York artist Michael Bartalos and label art honcho Mark Porter, later reimagined by recording and graphic artist Strictly Kev, it shows a stylized ninja brandishing vinyl records. The book displays this discography in a visual way, and is lavishly illustrated with historic photography, the book includes exclusive interviews with the label's artists and the minds who shaped the roster.

It's the story of a tiny label surviving and thriving while the majors run aground, the story of a unique vision and an all-embracing approach, championing the creativity of their artists at all costs. Ninja Tune appeal stretches far beyond Ninja Tune's already-established legion of followers: making this a must-read for any music fan with even a passing interest in adventurous music, and the triumph of ideas, passion and guerrilla creativity in the face of a factory-tooled mainstream.

---
Ähnliche Produkte